Revolution Books: Why we occupy
Wall Street
by C. Clark Kissinger (Chelsea Now, November 2-15, 2011)

Something extraordinary has broken out in society: the Occupy Wall Street (OWS) movement. We at Revolution Books are right in the thick of it - at the Wall Street encampment, on the marches and at our store on West 26th Street. When 700 people marched from Zuccotti Park across the Brooklyn Bridge and were arrested, I was one of them.

A couple weeks later, on the morning that Mayor Bloomberg had mobilized cops to clear the park, Revolution Books staffers were there along with several thousand others who came to stand with the occupiers. A young data analyst (who was there at 6am after driving two hours from Allentown, PA) said, "When I heard on the radio they were coming at seven to take back this park, that was it. I had to be here." A 40-year-old woman standing nearby said she had gotten a call the night before from her union: "I can't tell you what to do, but I would be in the park by midnight." Her husband gave her his subway card and said, "Go for all of us!"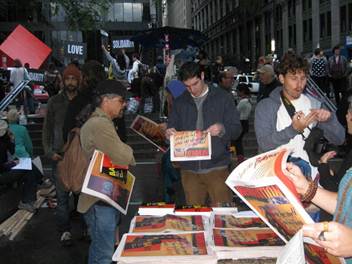 A little later, after the city decided to back down, we noticed a little sign in a nearby food truck about the protests in Egypt. Someone asked the woman in the truck about it. She burst into jubilant shouting: "I was at Tahrir Square in January, and now I am here. I am so lucky. We are changing the world!"

The OWS movement has become a popular vehicle for expressing outrage at the deeply unjust impact of the economic crisis. It is a much-needed breath of fresh air, because the occupations have stepped outside the bounds of "politics and protest as usual." The occupiers have put themselves on the line, coming back ever more audaciously after every attack by the police and the media - and raised some of the biggest questions now facing society.

A very important aspect of all this has been the steady stream of visitors to the encampment in Zuccotti Park and other camps across the country. Correctly disbelieving of media reports, people who come to see for themselves are struck by the combination of audacity and cooperative ethos - which is helping break down passivity and challenge the numbing atomization which causes people to feel isolated and left to their own. A new generation of young people is stepping to the fore, taking responsibility and setting an example.

The staff and volunteers at Revolution Books are right in the midst of this struggle - learning from it, standing with people and providing the books, the theory and the discussions that speak to the burning issues raised by OWS: What IS the problem? Is it corrupt politicians or the lack of popular democracy? Is it human nature and greed? Is it corporate influence, or is the problem the capitalist system itself? Can the system be fixed, or do we need a revolution?

Last week, activists from OWS and many friends of Revolution Books were arrested in Harlem with Cornel West and Carl Dix at a protest to STOP "Stop & Frisk." This is the racist police practice of stopping 700,000 mainly Black and Latino youth each year - a pipeline which feeds thousands of these youth into the system of mass incarceration. On this subject, if you haven't read it yet, stop by Revolution Books for a copy of Michelle Alexander's book "The New Jim Crow."

When we are not in the streets, the people around Revolution Books can be found debating and wrangling over how the world could be made a better place - not just for the people of this country, but for the people of the whole world. At the heart of Revolution Books is the cutting edge work of Bob Avakian, whose new synthesis of communism envisions a radically new society that is overcoming all of the oppression of the current world while giving great scope to intellectual work, ferment and dissent as integral to the complete emancipation of humanity. In the heat this new upsurge in society, we have sold hundreds of Avakian's new book "BAsics, from the talks and writings of Bob Avakian."

On many days, Revolution Books staff and volunteers have a book table in Zuccotti Park and a large "Welcome Wall Street Occupiers" sign that adorns our front window on West 26th Street. As we say in our statement of purpose: "Scientific, wrangling and visionary Revolution Books is alive with a defiant spirit that refuses to accept that the horrors of today's world have to be." Revolution Books has been out at OWS with speakers on different questions, and has initiated an ongoing discussion group at Zuccotti Park on "Basics." We have donated books to the OWS library and encourage others to do so as well.

Likewise, activists from the OWS movement have been coming to the bookstore. We recently hosted Adam Hochschild, author of "King Leopold's Ghost," who spoke on his latest book "To End All Wars" (a history of opposition in England to WW I). Coming up are three timely programs: The November 2, 16 and 30 series of talks "End Pornography and Patriarchy; the Enslavement and Degradation of Women" features Sunsara Taylor. On November 9, Carl Dix will be speaking on "Stop & Frisk, the Oppression of Black People, and the Revolution We Need." Then, on November 12, we are hosting an evening with political cartoonist Mr. Fish.

As a not-for-profit with no paid employees and a unique selection of books, we appreciate your patronage, and invite you to become a sustaining Friend of Revolution Books. All are welcome to browse the shelves, sit and read or discuss the burning issues of our time. Volunteers are always needed, both in the store and for our table at Zuccotti Park.

C. Clark Kissinger is the manager of Revolution Books (146 W. 26th St., btw. 6th & 7th Aves.). Open 12-7pm daily. For info, call 212-691-3345 or visit www.revolutionbooksnyc.org.